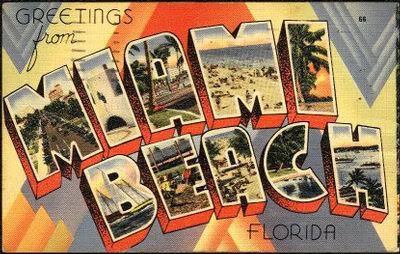 Yes its completely true. Some of the GuySpy team is indeed in Miami this week. What are we up to down here you might ask? Well, first and foremost we are attending a conference called iDate. It's a gathering of the top minds and creatives behind all the match making, dating, hook up and relationship websites and applications in the world.
You see, here at GuySpy we pride ourselves on our superior technology (thanks to Stark Mobile Media) and our super team of designers, social network stars and our growing team of GUYD's- experts and influencers in EVERYTHING that matters to fabulous and sexy Gay men like yourself. But we also see the value in exchanging ideas with other top companies and learning from each other so we can better serve you.
That brings me to another incredible thing about GuySpy- we really, REALLY value our users. We have made a commitment to our community to grow and learn from them…which essentially means that if you have suggestions or directions or ideas that you would like to see us use on either our GuySpy website or mobile applications. Or if you think you've got what it takes to be a valuable GUYD, then we want to hear from you!
We want to bring you what you want, not what we think you want. Feel free to email me any time at morris(at)guyspy.com. I love getting feedback.
Anyways, in addition to the conference meetings and seminars we will be doing some super sexy photo shoots, meeting with some entertainment executives and planning our next 6 months…oh, and I'm certain we'll be taking a few meetings by the pool. I mean, how can we not??
We're at the sumptuous, art deco Raleigh Hotel– where the staff are darn sexy and the pool, well, the pool…