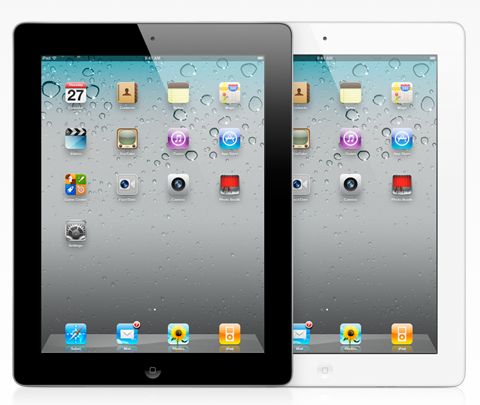 Hey GuySpy users! Jay here again. So yay, just as we expected, Steve Jobs and co. at Apple revealed the eagerly-awaited iPad 2 on March 2 in San Francisco. So did our predictions come true? Well yes, and no. Just as predicted, the iPad 2 is slimmer and lighter than its predecessor. Faster, dual-core 1GHz processor? Check. (No details about the RAM though… hmm, shady…) Dual cameras and FaceTime video chat? Check. Bigger speaker? Finally! Now how about the screen? Just as predicted, the iPad 2 screen sports the same resolution as the first iPad. This one was kinda disappointing, especially after the iPhone 4 sports an amazing high resolution Retina Display. Now a rumour that I wish was true was the one about the iPad 2 touting an SD Card. But nope, no SD Card slot. Bummer.
So what else is new? 1080p HD output via a special adapter (sold seperately). There will also be 3G models that can run on the Verizon network in addition to the GSM 3G models for AT&T (and Rogers/Telus/Bell if you're Canada). And now the iPad 2 comes in a white model in addition to a black one. (Funny… the iPad 2 comes in white, whereas the promised white iPhone 4 STILL hasn't shown up yet… hmm…). But the interesting kicker is that at launch, Apple will be releasing new "smart covers" that attach to the iPad with magnets to protect the iPad's screen. When you fold the cover over, it automagically wakes up the iPad, and you can fold it so that you can prop up your iPad for easier viewing or typing. I need to see this case in action 'cuz I'm still skeptical to call this a real protective case; the back of the iPad 2 is still exposed to potential dings and scratches, and I think that a padded polyurethane/leather sheet over top of the screen attached merely by magnets won't protect your iPad if you accidentally drop it.
Anyway, it looks like 2011 will definitely shape up to be an interesting year for tablets with all the other competitors coming out with a tablet device later this year. Will iPad 2 reign supreme? Well I think it will come out on top, regardless of its shortcomings. (And I'm drooling over the white iPad 2. Sexy!). We'll soon find out when it's released March 11 in the USA and March 25 in Canada!
What do you guys think of the iPad 2? Will you be eagerly lining up at the Apple Store this month to get one? Or are you gonna hold out? Comment below!